30% Guaranteed ROI on Your Investment?
Did you know that the United States Federal Government provides tax incentives for domestic oil and gas investments? These incentives can mean a 30+% ROI for you in the first year and up to 15% of gross annual production may be tax-free in perpetuity.
Watch what Robert Kiyosaki, author of the best-selling book "Rich Dad, Poor Dad" says about this ROI and the benefits of investing in domestic oil and gas.
Does Rich Dad, Poor Dad recommend Oil and Gas Investing?
In his bestselling book, "Rich Dad, Poor Dad," Robert Kiyosaki explains how oil and gas investments offer a number of tax benefits that make them a particularly attractive option for those looking to build wealth. Kiyosaki outlines several tax incentives that directly apply to what we do at DW Energy Group with our oil & gas partnerships.
Today, Kiyosaki is one of the most popular names in the personal finance world. He is the owner of a number of oil wells and oil drilling operations in Texas, Oklahoma, and Louisiana – and he has plenty to say about investing in the current environment.
See his tweet from earlier this year: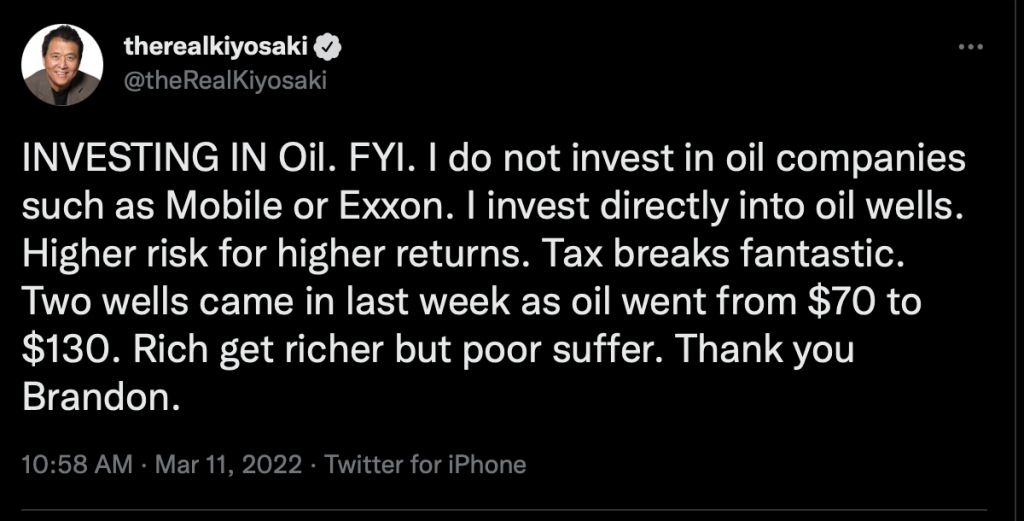 Take the Next Step
No other industry allows for unique tax benefits such as the oil and gas exploration industry. In fact, the energy industry enjoys some of the most lucrative advantages available in the United States tax code. This is why experienced investors who are aiming to diversify their portfolio and take advantage of opportunities that offer robust tax advantages participate in oil and gas investments.
If you are a qualified investor looking to make the most out of the many tax advantages available to those investing in oil and gas, DW Energy can help. Contact us today.
Want to Learn More?
Contact dw energy